Table of contents:
What exactly is retro style?
Let's start with what retro style is and how it manifests itself, because it's not that obvious. Many amateurs of interior design often confuse it with the French and Provencal style. There are also those who define loft rooms in this way, and this is a mistake. So what is retro style characterized by and how to recognize it?
Not so long ago there was no easy access to furniture, creative design, stylish household appliances and accessories. There was a lack of fabrics, exotic plants, art. However, it has its advantages. What went to the market, and then to our houses/flats, had to stand out in terms of quality. The furniture was thoughtful, comfortable and solid. Household appliances did not break down right after the warranty expired. The elements of the interior design were made by real professionals and were characterized by extraordinary craftsmanship. They were simple in form, minimalist. However, they often surprised, for example, with color or texture. That is why retro interiors are characterized by simplicity, comfort, usability and functionality. They are joyful and comfortable to use. Retro style likes to complement itself with modernity – no wonder. Current trends show that we like to mix different solutions and we do it more and more boldly.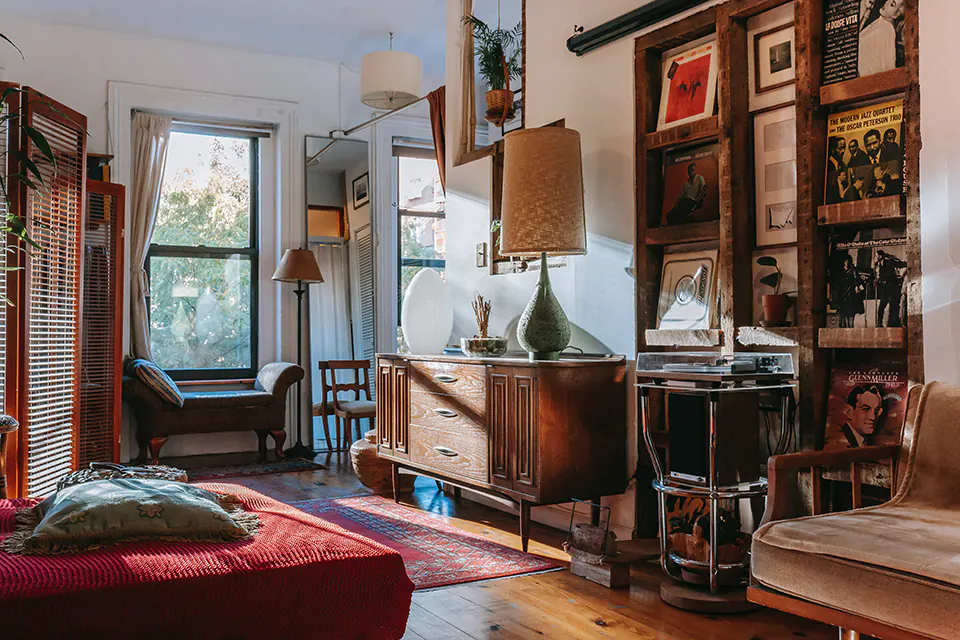 Don't be afraid of colors
The retro style is certainly not motley. The interiors are rather monotonous, but… Color accents are in high demand. An interesting pot cover, an eye-catching vase of an unusual shape, pillows with a graphic pattern – all this complements the style and makes the interior not monotonous and boring.
The only thing that should be avoided is the duplication of color additions. Let's not go towards cobalt curtains, pillows, flower pots and a carpet in one room. Let's focus on diversity. If you decide on a cobalt blue vase, add black and white striped cushions to it. Let's paint an old table lamp with green enamel and put an interesting plant next to it. Hang a large poster straight from an American sitcom with bold graphics on the wall and you're done. Such accessories create a retro style.
Memories window
Retro style is a kind of reference to old trends. Often in this type of interiors you can observe a return to wall units – adapted and slightly modernized. This is the "come back" of plywood furniture. Sideboards, chests of drawers, secretaries as well as chairs and armchairs from the "time of Gierek" are desirable in the interior. Uncovered windows go well with this style – what kind? It doesn't matter much. They can be white, wooden, light or dark. Each of the MS offers more than WINDOWS will fit into this style. It is only important that the window is not too "motley" decorated. On the windowsill, a flower and a vase are enough. It is worth betting on stone window sills, e.g. with terrazzo. Then you do not need to stylize such a window. Minimalism will defend itself.