Alux DB windows and modern style in interiors
Modern interiors are spacious and light rooms that receive a lot of daylight through huge glazings. In houses decorated according to the modern style, the rooms merge – the living room connects with the dining room to smoothly move into the kitchen. Thanks to large windows, the border between the living room and the garden is becoming blurred – this is also another determinant of this style. Veneer in Alux DB colour will be perfect for modern homes. It is a foil that surprises not only with the depth of colour, but above all with a structure that resembles galvanized metal. Therefore, the porous texture looks great especially on large-size windows. The Alux DB colour will fit very well with a light or beige facade. It will also create a successful duo with warm wood or stone. There is no doubt that this is an ideal proposition for dynamic owners of modern homes.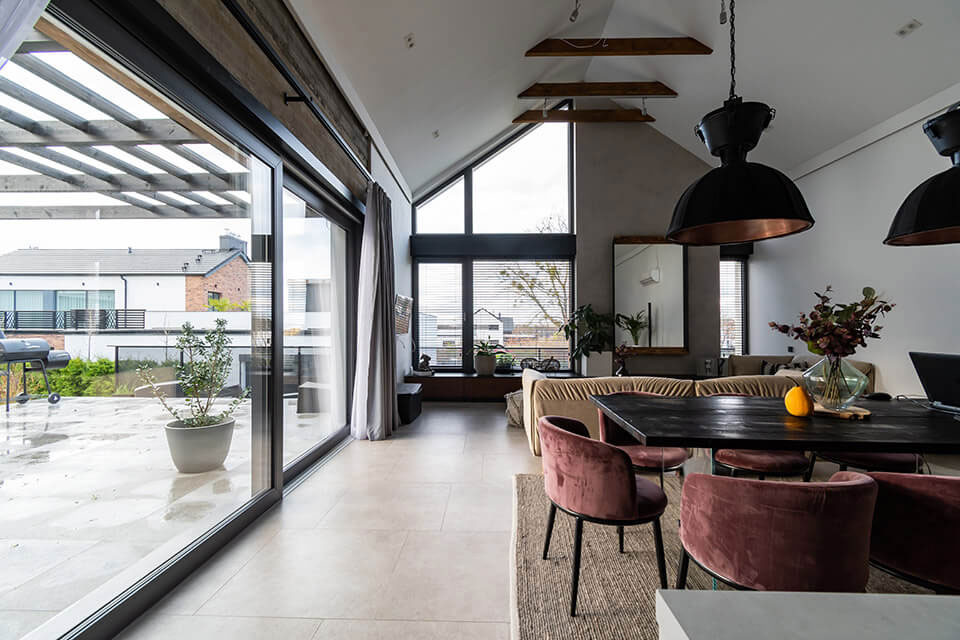 Cool Alux DB will work in a loft
The industrial style is combined with shades of gray and black – these are the colours that play the main role. It is dominated by concrete walls, raw brick, which harmonize with visible structural elements (e.g. pipes or metal columns). When choosing the colour of windows for interiors decorated in an industrial style, you should rather focus on subdued colours. It's best to choose between metallic or anthracite shades. We suggest that enthusiasts of loft climates take an interest in the Alux DB colour. This is a proposal created for fans of cool design. With a clear conscience, it can be said that windows with Alux DB veneer will make an impression and emphasize the character of industrial rooms. If you want to find out what types of windows are suitable for lofts, be sure to read the article: House in an industrial style. Which windows to choose?
Modern barn with windows in Alux DB colour
Nowadays, modern barn designs are getting a new lease of life. Most often they are the so-called "no-eaves houses" with a simple rectangular or L-shaped body. The windows give a unique character to the room, through which a large amount of light spreads throughout the interior. Floor-to-ceiling glazings along the entire length of the facade is a typical of the "barn house" concept. Important elements are materials such as: glass, concrete, wood or steel. Great importance is also attached to the colours. The interior has a unique atmosphere thanks to the use of gray, anthracite or dark elements of the interior. Textures imitating natural wood or demolition bricks are also perfect. A popular veneer for windows in a modern barn is Alux DB colour, which goes surprisingly well with anthracite, gray and wood. We recommend that everyone whose plans are related to the construction of a modern barn read the following text: What windows to choose for a modern barn?