Table of contents:
Types of handles
Handles can be divided mainly due to the material from which they are made. The three main categories are:
Plastic handles – made of plastic that matches the frames of the most popular windows.
Metal handles – aluminum is most often used, but they can also be steel or brass.
Metal-plastic handles.
Plastic handles are installed in the windows as standard. They are cheaper than metal alternatives, and they fit well with PVC windows. Thanks to the available color options, it is also easy to match them with the selected window veneer. For normal domestic use, this type of door handle is perfectly adequate.
Metal or metal-plastic handles are installed where they will be frequently and intensively used. And this is thanks to their greater durability. They are available in both satin and matte finish. Hence, they fit well with aluminum structures due to their aesthetics, which is emphasized by the raw, industrial, and modern character of the wing.
One of the arguments for choosing handles made of non-standard material, such as brass, may be their unique appearance. Brass and steel handles will perfectly match wooden vintage, rustic or retro-style windows. The modern design of plastic or metal handles will collide with the traditional and classic character of this type of woodwork.
Handles can also be divided due to their shape. These can be solutions:
Single-arm – standard, common and the best known type of handle handles.
Two-armed – resembling an anchor.
One-arm handles fit any type of window. This is the most famous and classic style. Two-arm solutions, on the other hand, will prove themselves in specific circumstances, for example in historic windows or in interiors built with glitz and splendor. And this is thanks to their unique and very elegant appearance.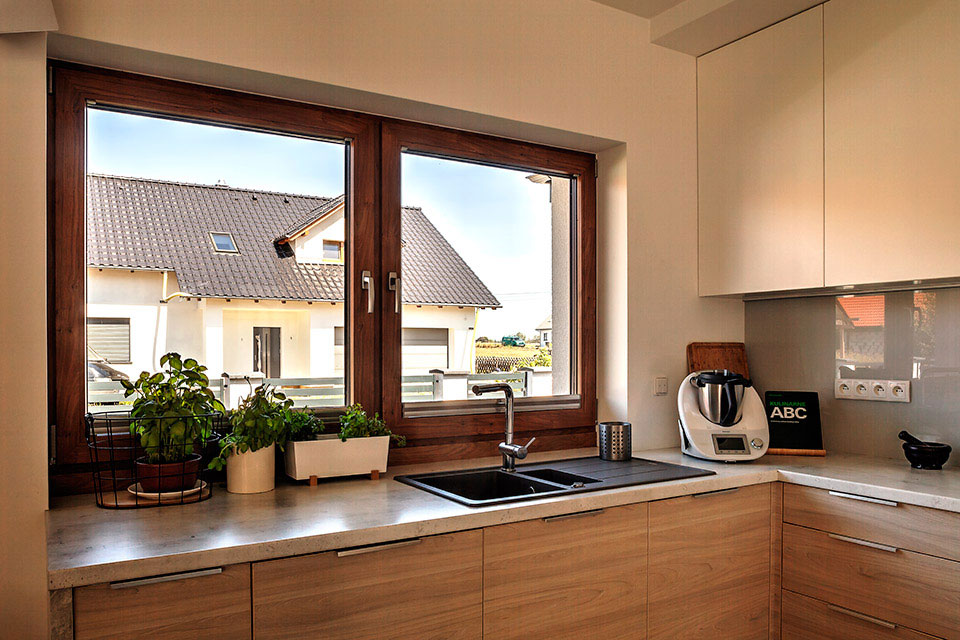 Selection of a window handle
First of all, the mounted handle must work well and be compatible with the functionality of the sash. A poorly fitted handle can make it difficult to operate the window, and also provide an incentive for burglars.
When choosing the right handle for the window, you should take into account the material from which it was made, as well as the color of the veneer used. It should match the color of the wing.
In the case of PVC windows, customers usually choose matching plastic handles, while for aluminum structures, metal solutions are more often chosen. You can choose a door handle in a homogeneous color with the window, which will also visually "hide" it, or emphasize its presence by choosing a contrasting color – dark in the case of a light sash or light in the case of a darker sash.
When we have white PVC windows, then a white handle will also fit best, but it is important that it is exactly the same shade of white! If, on the other hand, our white window is made of wood, a metal handle will be a more aesthetic solution. For windows with wood-like veneers, you can use, for example, handles in shades of brass or steel, which will emphasize their classic character.
After deciding on the material and color of the handle, choosing the right model should not be a problem. The individual elements are standardized and differ, apart from their appearance, only in the length of the mandrel. Manufacturers of window joinery offer many designs of handles for their products, ranging from minimalist forms to the most sophisticated and fanciful shapes that can be adapted to modern, minimalist, as well as classic, rustic or richly decorated interiors.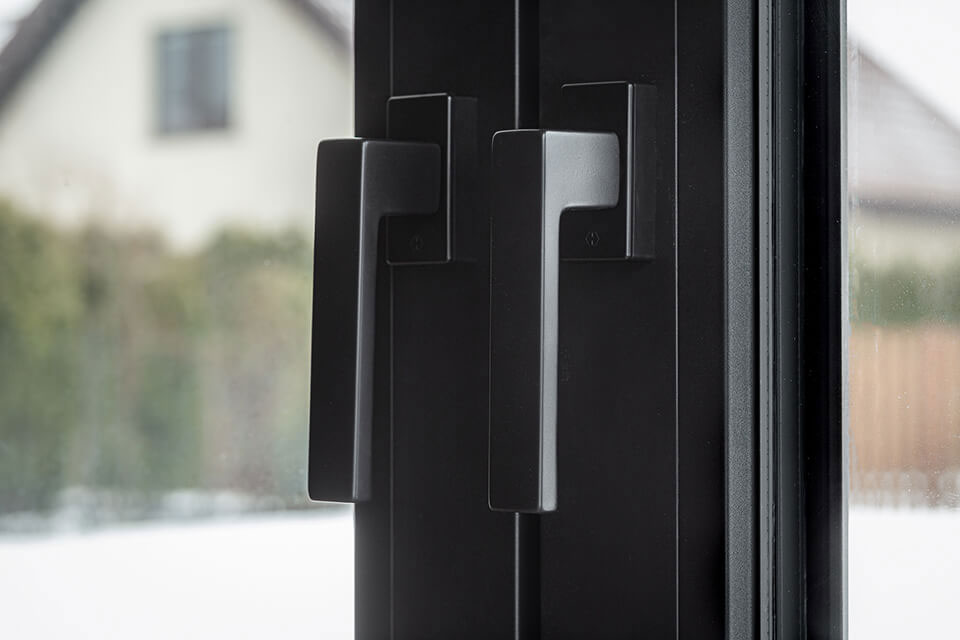 Additional functions
The handles can also be supplemented with several optional solutions. For example, they can be an important part of your home security system.
Special security systems can be installed in the handle, such as, for example, Secustik by the German company Hoppe. This solution protects the window against opening by moving the movable hardware elements in the sash.
Another option is a handle with a key that allows you to turn it to block the possibility of opening the window sash. Some models allow the handle to be locked in the slightly tilted window position. This solution in patio doors can be especially useful for people with disabilities.
See also: Adapting windows to the needs of people with disabilities
An alternative are also door handles with a button. In this case, in order to open the window, press the button and turn the handle at the same time. This solution will be appreciated above all by parents of small children, who are thus prevented from opening the window without supervision.
Handles in the MS offer more than WINDOWS
The MS more than WINDOWS offer includes two lines of handles available to choose from:
Dublin handles – they can be used both in windows and lift and slide doors, thus matching these two types of structures.
Hoppe Secustik handles – providing not only an elegant look, but also additional security functions.