What are the benefits of window covers?
The first and most important benefit that window covers give us is effective protection from the sun. They protect rooms from excessive overheating, which gives invaluable comfort of staying indoors. As a result, there is no need to invest, for example, in expensive air conditioning or fans. Thus paying high electricity bills. Roller shutters protect us not only in summer. They will also provide us with additional insulation against the cold in autumn and winter. The lowered roller shutter prevents cold air from entering from outside. In addition, window covers guard our privacy. This is ideal for those who want to avoid the intrusive stares of neighbours. If the windows of your house or flat face a noisy neighbourhood, you should consider installing window covers. When it comes to sun protection, we can choose between roller shutters and facade blinds. What speaks in favour of both, we write in the following paragraphs.
Roller shutters – advantages
More Solutions roller shutters are made of durable components, which ensures their solid construction. It is worth mentioning that both sides of the lamellas, which are made of ecologically pure aluminium filled with polyurethane foam, are embossed. All this makes the construction durable and weatherproof. Even winds up to 113 km/h will not disturb the proper functioning of the roller shutter. On sunny days, when the roller shutter is lowered, it blocks the access of sunlight to the interior. Privacy is also one of the important functions of roller shutters. They ensure intimacy and are indispensable in the event of curious neighbours peeking into our windows. Besides, they isolate noise very well. Those whose windows face a noisy street should plan to install roller shutters. What is more, a wide range of colours makes it possible to perfectly match the window cover to the colour of the joinery. An alternative to sun visors can also be modern mSun facade blinds.
Read also how to clean roller shutters and facade blinds.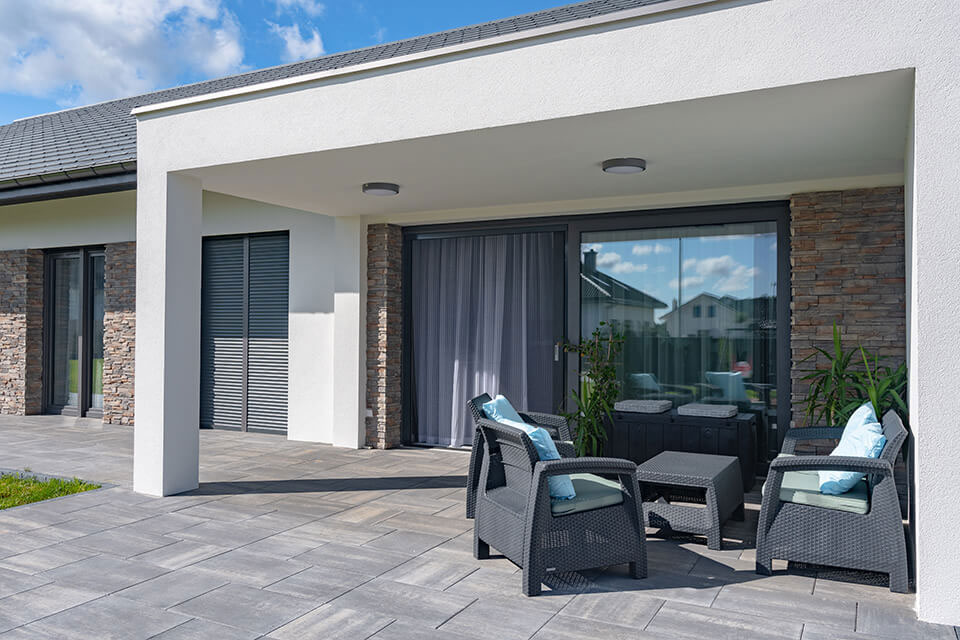 Facade blinds – advantages
Facade blinds give us the possibility of any arrangement of the lamellas and their full regulation. This function may speak in favour of facade blinds, since with a roller shutter we only have the option of completely covering or uncovering the windows. In modern construction, the trend towards large glazings is still continuing. This means that some of our domestic spaces are exposed to a lot of sunlight. In this case, it is worth considering the installation of facade blinds, especially on glazings in the living room – wherever we want to control the access of light. It is worth mentioning that facade blinds create a thermal barrier in front of the window pane. They thus slow down the exchange of heat between the window and the interior. This protects the rooms from overheating and reduces the temperature by up to 10°C, when it is 35°C outside.