Table of contents:
Wood-like veneers – what should you know about them?
The times when customers deciding to buy PVC windows were faced with the choice of their color from a very limited offer are gone. Currently, an extremely rich color palette is available, which includes both classic, uniform RAL colors, but also, for example, veneers resembling shades of metal. One of the larger and most popular groups of veneers are those imitating the structure of wood.
The range of wood-like veneers consists of many shades resembling the color and structure of those known from wooden joinery. The most popular ones, such as turner oak , winchester or just walnut, are at the top of the list of the most frequently chosen colors by customers. This is because while maintaining the aesthetics of traditional wooden windows, the advantages of plastic windows, such as high thermal insulation or soundproofing parameters, are not given up.
An even better effect can be achieved by choosing a window model that not only looks like wooden joinery in color, but also in the way it is made. Such windows are, for example, Wood Look from the MS offer more than WINDOWS . The manufacturer, in addition to the highest-quality wood-like veneers, combined the corners in them at right angles, thanks to which they resemble wooden structures.
See also: Five fashionable wood-like veneers
Walnut-colored windows – characteristics
Walnut is one of the most popular wood-like veneers. It is particularly characterized by the regularity of the grain pattern. And at the same time, it is one of the darker colors, with its deep brown shade somewhere between the black-brown swamp oak and the golden Winchester.
Due to their darker color and distinctly wooden structure, walnut-colored windows are a perfect match for buildings with lighter façades – white, beige, cream or light brown. They blend in perfectly with brown tiles and other façade elements that use wood, such as an entrance door or garage door.
Walnut-colored windows will perfectly match houses with a surrounding garden. They harmonize perfectly with lush vegetation, trees and garden architecture or a wooden fence with a similar color.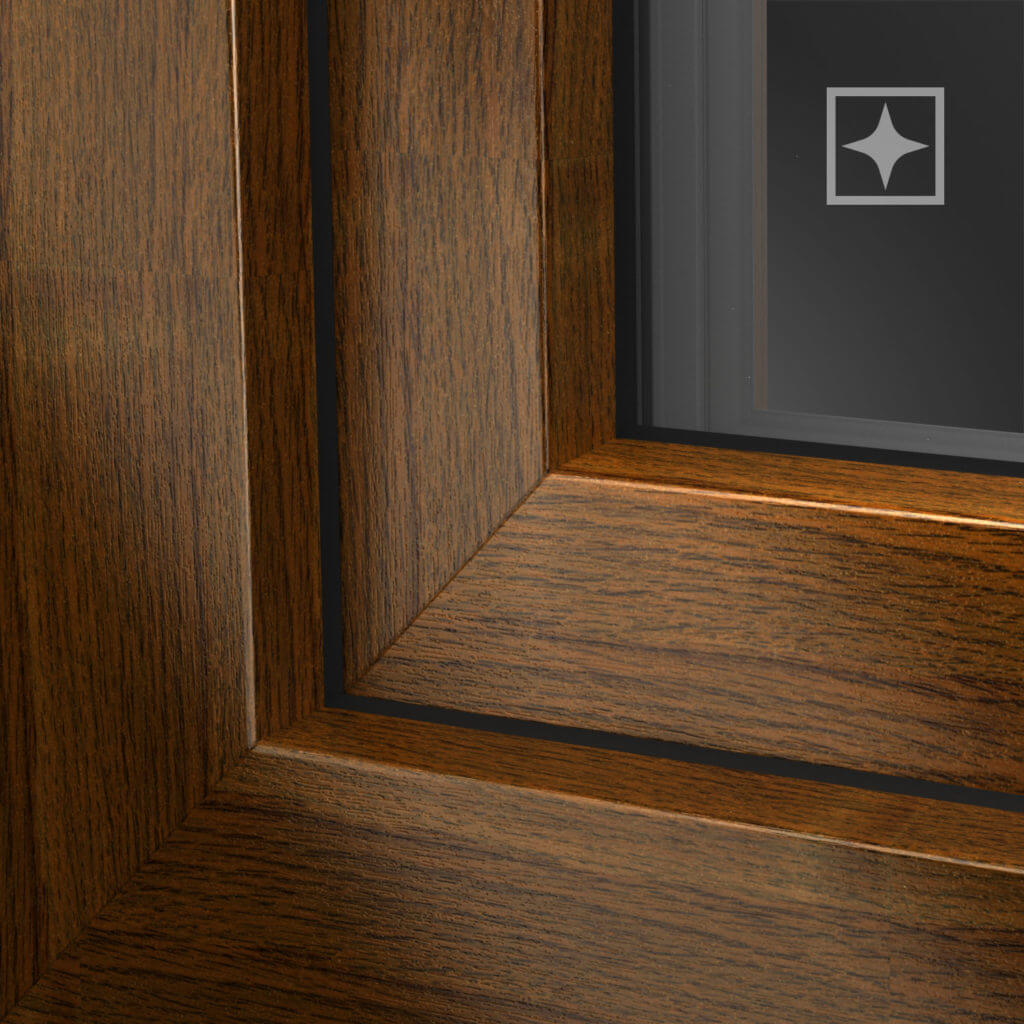 What style do walnut windows match?
The color of the walnut PVC windows, due to its darker shade, is especially suitable for interiors in a classic, colonial and oriental style. It will work well where the color of the furniture is also dark, while the color of the walls falls into light, but warm colors – delicate beige or light browns.
Plastic windows in dark walnut color perfectly harmonize with heavy furniture – antique wardrobes, antique chests of drawers or large display windows. It is a solution for interiors that aesthetically refer to old mansions or hunting rooms.
As an addition to walnut windows, it is best to choose a matte silver or satin gold handle. So selected, it will retain the elegance of the window, distinguishing itself from its texture.
Familiarize yourself with the entire color offer of MS more than WINDOWS