Table of contents
Winchester windows – which facade goes with them?
The Winchester window colour is characterised by great versatility. As a result, it blends in perfectly with a variety of solutions. It can be successfully used not only in traditional construction, but also in modern buildings.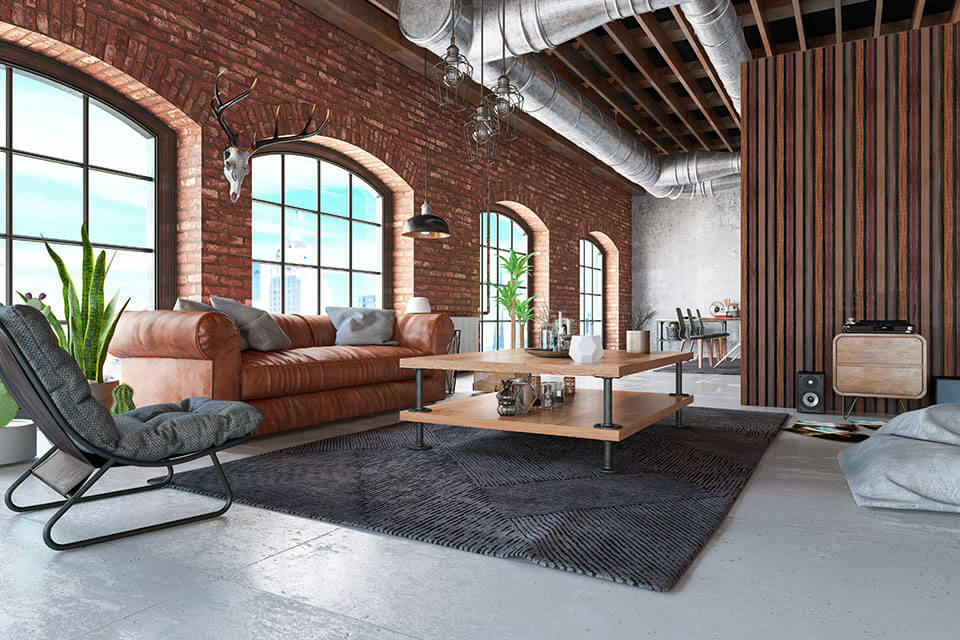 Winchester window and white facade
The colour winchester is available as a wood-like veneer for PVC windows and also decor in aluminium windows. This shade works very well with white and cream coloured facades. It gives the building a rustic feel, which combines with the current boho trend in the interiors. If you want to create a cosy place to relax on a terrace in a new or renovated building with a simple shape, consider installing decorative facade cladding or wooden panels in the colour of winchester. Hanging and standing compositions of flower pots, candles and lanterns to create an intimate atmosphere and comfortable sofas with warm bedspreads will create an asylum that you will gladly escape to after a busy day.
Combination of wood-like veneer and brick facade
The warm, honey-coloured shade of the winchester window frames and doors also blends in interestingly with the brick and orange-coloured facade. The anthracite roof will work well in this combination, creating a modern accent in the overall image. This combination is recommended to those who are looking for a way to give a modern, original character to a traditional building.
Winchester colour in combination with gray facade
The versatility of windows in the winchester colour can be seen in the modern, minimalist design of detached houses with facades in a cool shade of gray. It is enough to insert large windows and a terrace door system (e.g. MSline+ windows combined with Patio HST 82 lift and slide door in winchester veneer) to make the house look modern, bright and cosy.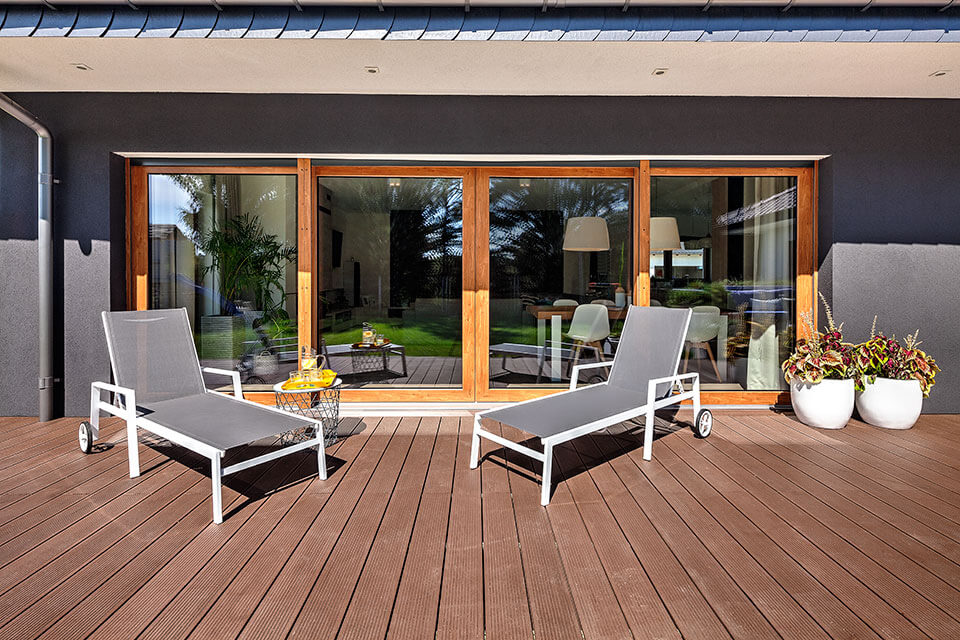 Also find out which windows to choose for an industrial style home.
Winchester windows and interior style
Window joinery in the colour of winchester is a graceful material matching interiors arranged in various styles. Those looking for harmony should be guided by the principle of tonal consistency and the combination of colours of similar saturation and temperature. An example of such a combination is the selection of a golden oak floor and furniture made of oak or wood-like veneer, which has a subtle honey or ginger pigment. For minimalist interiors, windows and doors with an equally simple form will suit. A great option is the Wood Look line, in which the combination of frame corners and sashes at right angles is deceptively reminiscent of windows made of wood.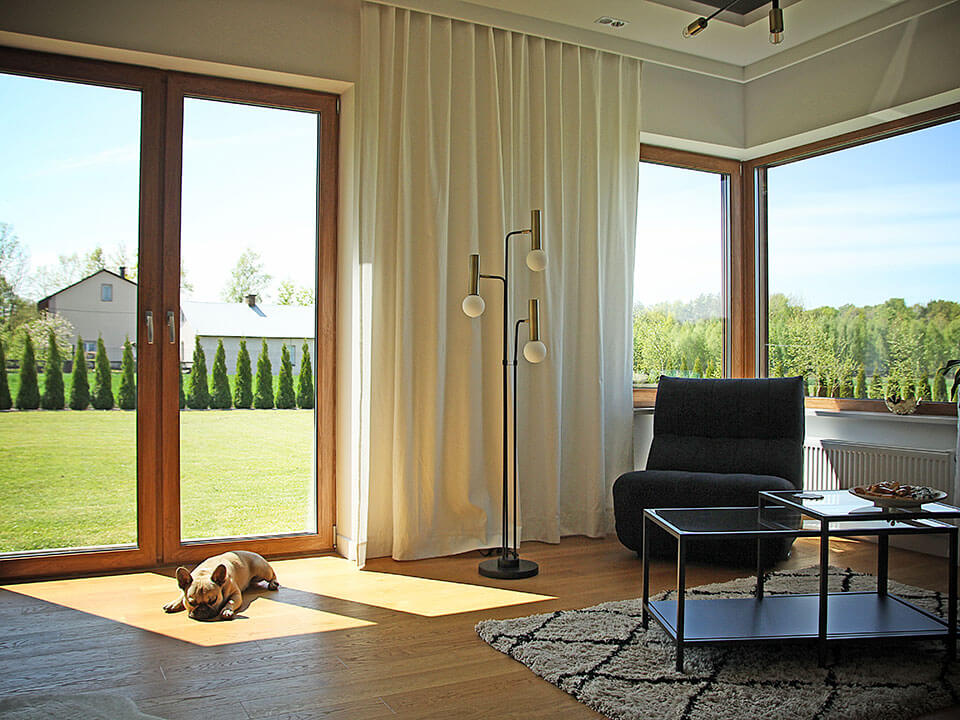 Boho style with winchester windows
If you want to keep the rooms bright and fresh, beige or cream curtains, upholstery and rugs are perfect. Elements of the boho style – soft, woven cushions, fluffy bedspreads, subtle macramé or raffia pouffes and flower pots will go perfectly with the warmth of the windows and windowsills, as well as the winchester-coloured interior doors.
Room element in bold colours
What if you prefer strong and darker colors? Winchester windows inside the room go well with red, maroon and green – luxurious colours that evoke classic (e.g. elegant English-style offices) and vintage style. Modern interiors that refer to the classics use some elements of these styles. For example, they have one wall in a dark colour, a sofa and armchairs with maroon or red accents, a bookcase as a key element of the room's design and accessories that create a nostalgic atmosphere. These can be paintings, photographs or travel souvenirs.
Why is it worth choosing winchester coloured windows?
Due to its universal character winchester veneer definitely deserves attention when planning windows and doors in a new or renovated house. It gives the opportunity to create a strong style and to easily adapt to changing trends. A traditional look in a modern design and top quality windows made of PVC or aluminium will give your windows a long life and pleasure in everyday use.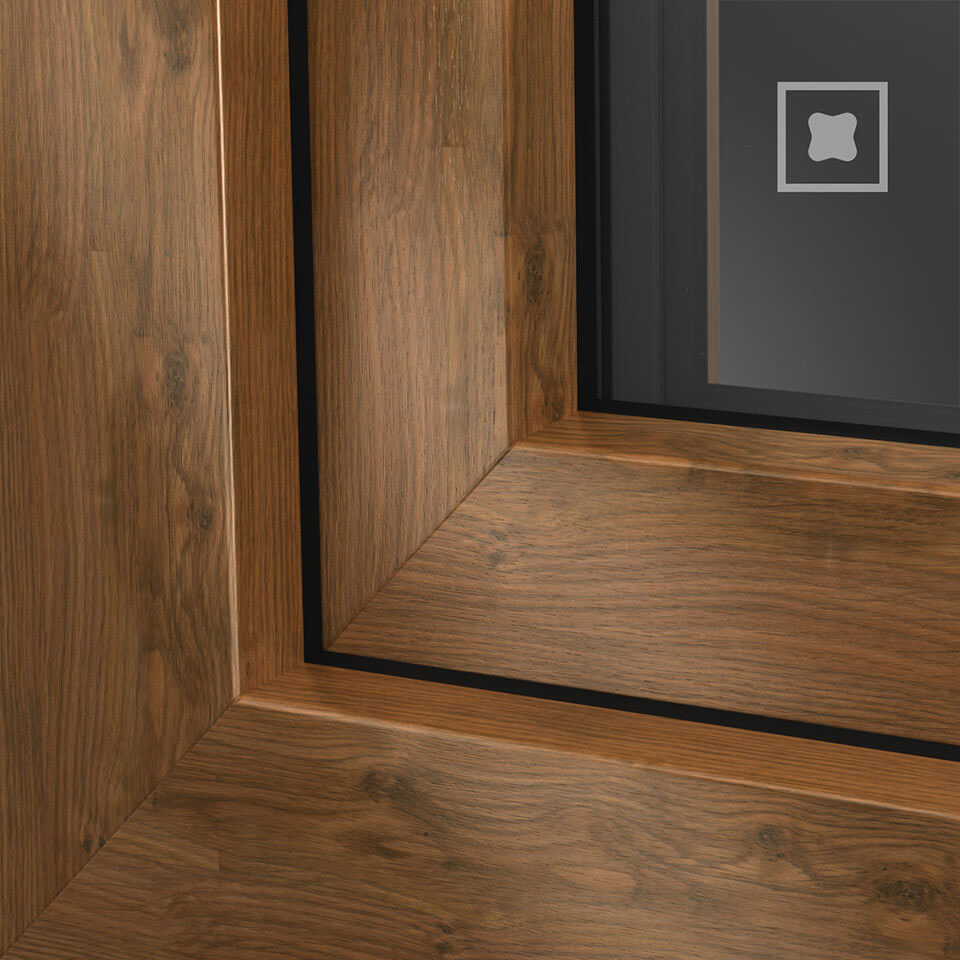 Joinery and roller shutters in the Winchester colour – a harmonious combination
Honey-coloured windows should be combined with matching window covers. Winchester-coloured roller shutters create a perfect duet with wood-like joinery. This solution not only looks great, but above all ensures high comfort of use. The covers effectively protect the interior from excessive sunlight. What's more, they make it harder to break in and reduce the noise coming into the room.