Corner windows with mullion
The basic type of corner construction is the corner window with mullion. In this case, a 90-degree connector is used to connect the two frames. This element is intended to provide the joinery with adequate strength. The appropriate rigidity is guaranteed by the steel reinforcement. This solution has the disadvantage of limiting the view due to the presence of a connector. A huge plus, however, is the possibility of openable sashes. However, it should be borne in mind that some arrangements will require a selection of extensions.
Corner window without mullion
A solution often considered to be more aesthetically pleasing are corner windows without a mullion. These constructions require correct preparation of the glazed units and the use of polyamide rope to ensure the right tightness. The connection point between the panes is blacked out, but this type of construction is less limiting in terms of visibility than the mullioned variant. As these are non-openable corner windows, they will work best in areas that are easily accessible from the outside. Otherwise they will be more difficult to wash. It is therefore worth considering installing them in ground floor rooms. This type of corner windows from the MS beyond WINDOWS offer is manufactured in the MSline+ AD system.
Full opening to the world
In addition to standard windows, it is also possible to install corner lift and slide doors. Aluminium Patio HST 77 allows to create a fully open corner. This type of construction guarantees better contact with the outside world. In addition, it lets in a large amount of natural light, which has a positive effect on your well-being.
Corner constructions – which interiors do they suit?
Although corner windows mainly appear in modern buildings, they can also be successfully used in houses decorated in other styles. It is a good idea to opt for such a solution especially if you care about aesthetics and a large amount of natural light. However, it should be borne in mind that corner windows, compared to standard windows, have a higher heat transfer coefficient. This is due to the presence of a geometric thermal bridge. This means that the heat supply surface area is much smaller than the heat transfer surface area.
Corner window in the kitchen
One interesting solution is to place a corner window in the kitchen. It will provide a well-lit worktop, which will increase the comfort of the interior and make it easier to prepare food. In the case of this room, it is advisable to opt for a window with a mullion, in an opening version. When cooking, it is often necessary to ventilate the interior.
Check which window to choose for your kitchen.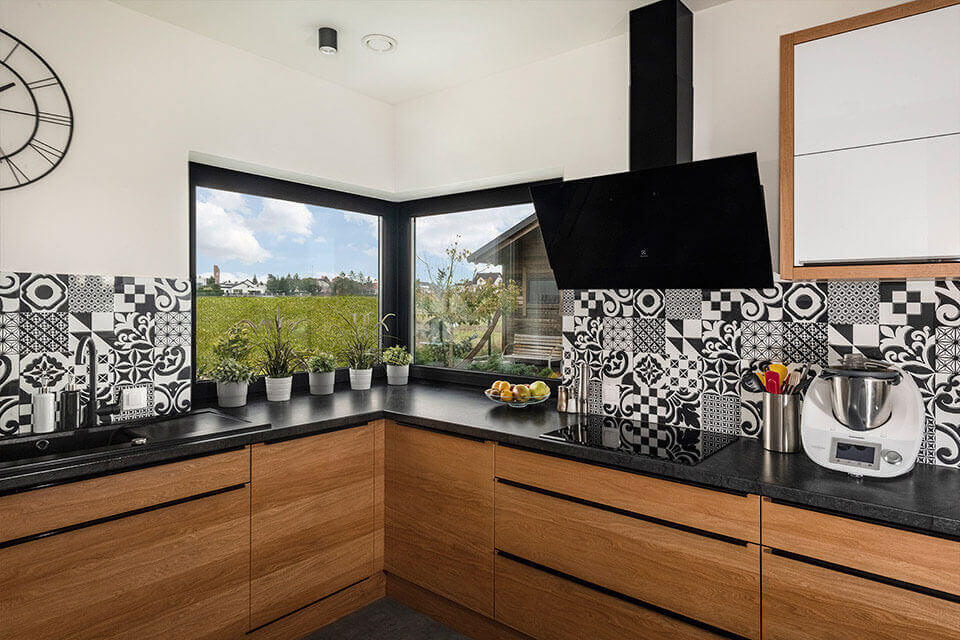 Glazings perfect for the living room
It is also worth choosing a corner window in the living room. We generally spend a lot of time in the living room, which is why it should be lit as well as possible. Access to natural light has a beneficial effect on the functioning of the body and our well-being. In addition, if the building is located near a forest or park, the corner structure will allow to admire the beautiful surroundings. In a room where we often relax, the aluminium Patio HST 77 will prove ideal. Such a large corner window in the living room will positively influence the aesthetic value of the interior.