What window covers do we have to choose?
Rolety zewnętrzne more Solutions posiadają dobre właściwości termoizolacyjne, zapewniają korzystny bilans kosztów i energii dla domu. Lamele rolet wykonane są z ekologicznie czystego aluminium wypełnionego pianką poliuretanową, dodatkowo po obu stronach lameli występują przetłoczenia. To wszystko wpływa na sztywność i prawidłowe funkcjonowanie przesłony nawet w przypadku wiatru osiągającego prędkość 113 km/h. Ponadto rolety chronią przed hałasem, co szczególnie docenią mieszkańcy dużych miast. Rolety zewnętrzne działają na zasadzie całkowitego zasłonięcia lub odsłonięcia okien – inaczej, niż żaluzje fasadowe. W przypadku drugiego z wymienionych rozwiązań lamele żaluzji podlegają pełnej regulacji ułożenia dzięki czemu pozwalają na dostosowanie stopnia nasłonecznienia do własnych preferencji. Wystarczy jeden ruch, aby całkowicie zaciemnić pomieszczenie, stworzyć przyjemny półmrok lub doświetlić pomieszczenie nie narażając go na przegrzanie. Przede wszystkim, żaluzje gwarantują skuteczną ochronę przed upałem i zapewniają optymalny rozkład temperatur. Co warte zaznaczenia, osłony zewnętrzne tworzą barierę termiczną jeszcze przed szybą, czyli na zewnątrz budynku, spowalniają wymianę ciepła i tym samym zabezpieczają pomieszczenia przed nadmiernym nagrzewaniem. Przykładem mogą być żaluzje fasadowe mSun, dzięki którym możemy obniżyć temperaturę wewnątrz nawet o 10 stopni Celsjusza (przy zewnętrznej temperaturze sięgającej 35 stopni Celsjusza). Przekłada się to bezpośrednio na nasz komfort, ale również na obniżenie wydatków na klimatyzację.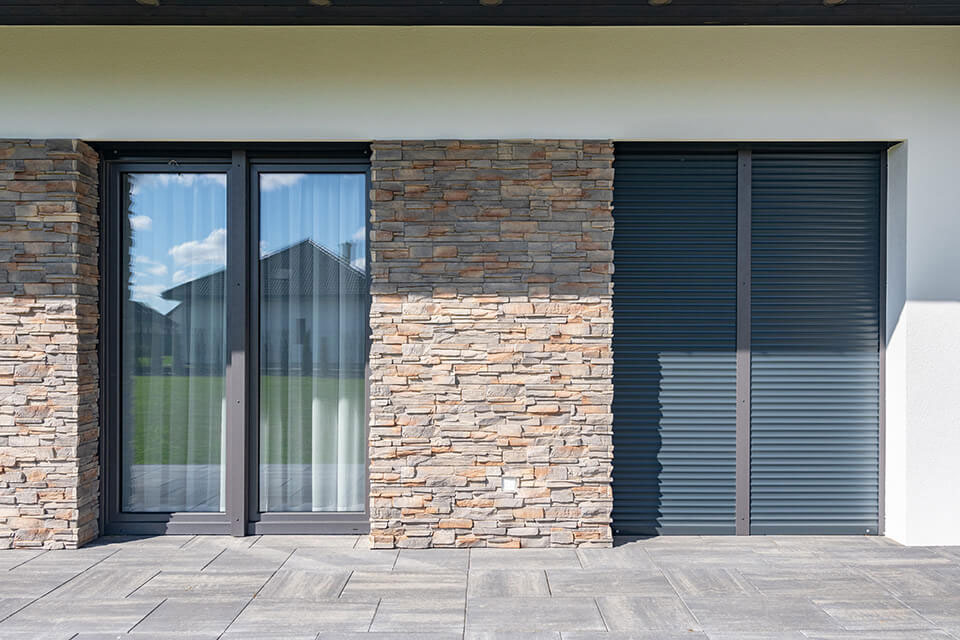 Economic reasonable
We produce increasingly warmer windows, so heating costs are getting lower and modern architecture is the use of large glazing and exposure of rooms to high solar exposure. Therefore, having facade blinds where the sun is too much during the day seems economically justified. Often with the final choice between the roller shutter and the facade blind, investors decide on the second option. Why? Because the facade blinds look modern and are an original decoration of the building. In a word, they have more arrangement potential. Sometimes it turns out that with large windows we can not always use a roller shutter. The facade blind, thanks to its construction, allows to obtain a larger area and, consequently, can cover larger glazing.
Facade blinds or roller shutters?
Co zatem wybrać? Na to pytanie nie możemy odpowiedzieć jednoznacznie, ponieważ wybór zależy od kilku czynników, np. rodzaju i przeznaczenia pomieszczeń, w których mają zostać zamontowane przesłony albo ustawienia budynku. Nic nie stoi na przeszkodzie, żeby w swoich domach łączyć oba typy osłon. Żaluzje fasadowe warto zamontować na największych przeszkleniach w salonach, pokojach dziennych, gabinetach, wszędzie tam, gdzie chcemy kontrolować dostęp słońca. Z kolei w pomieszczeniach, w których przebywamy rzadziej (łazienka, pralnia, garaż czy sypialnia) wybierajmy rolety. Bogata gama kolorystyczna pozwoli nam na dopasowanie do siebie osłon. Nowoczesne systemy sterowania umożliwią zarządzanie wszystkimi napędami za pomocą jednego pilota lub smartfona.
Przeczytaj również, jak umyć rolety zewnętrzne i żaluzje fasadowe.