Classic terrace doors
Choosing terrace door is not an easy task. It is better to devote more time to choosing the terrace door itself at the design stage. They will be responsible for making going out on the terrace a pleasant activity. One of the common solutions used in construction are classic single- or double-sash terrace doors with a flying mullion. They are most often used when the exit to the terrace or balcony is narrow. As standard, terrace doors open inwards, but we also offer outward-opening terraces. The constructions may also differ in the lower part of the door. In addition to the framed option, a low aluminium threshold variant is also available. When deciding on a single- or double-sash door, it is important to be aware that it will take up a lot of space when opened. Therefore, it is worth thinking carefully in advance about the arrangement of the interior (if the door will open inwards) or the terrace (if outside), making the room as functional as possible.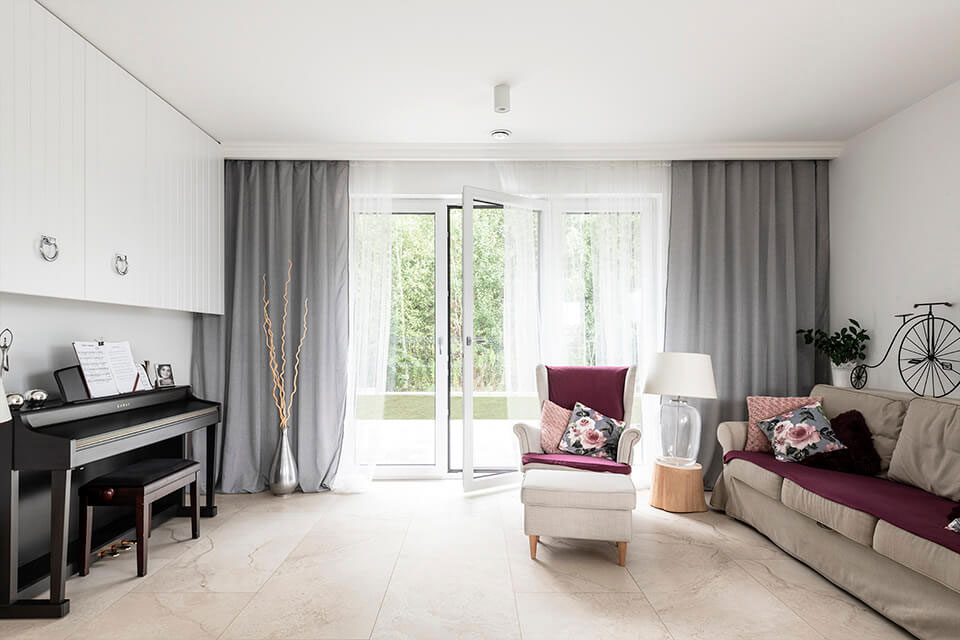 Easy to use Patio PSK
Connecting the home space with the outdoors is one of the most important tasks of terrace doors. Sliding systems help to blur the boundary between home and garden. Movable door sashes do not take up any additional space and allow complete freedom of arrangement. An exit to the terrace can draw the attention of guests, especially if you opt for impressive and large glazings. If we have a long wall in our living room that we can fully arrange, let's plan large windows in this area. This design allows plenty of natural light to enter the room and makes the building appear lighter. Large glazed constructions can be created, for example, with Patio PSK tilt and slide doors equipped with professional hardware. Siegenia brand hardware mechanisms used in our joinery make Patio PSK doors very easy to use.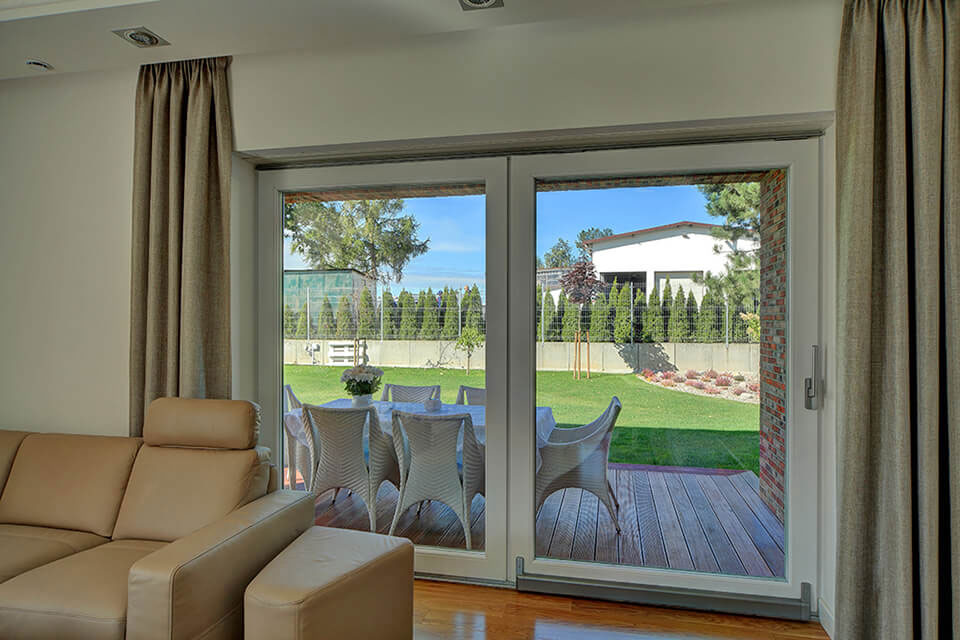 Patio HST – the most comfortable exit to the terrace
Lift and slide doors are currently considered the most comfortable way out onto the terrace. Installing e.g. Patio HST lift and slide doors will make our living room a designer interior, and modern technologies will influence the comfort of using large glazed areas. Adjustable bogie wheels, comfort gear or SOFT CLOSE mechanism are hardware elements that support HST doors. The second important issue is the threshold. Simply put, the idea is to keep it as low as possible. Only then will we not run the risk of tripping when entering the terrace. The low threshold becomes very important if there are children or people with disabilities in our house. In the most popular HST systems, a low threshold is offered as standard, but few people know that it can be further lowered. This is achieved by installing a lower running rail on which the active sash bogie wheels run and adding a levelling overlay from the outside. With this solution, the threshold is only 5 mm high.