Table of contents:
What are the characteristics of Scandinavian style?
The architecture of Scandinavian style houses can be briefly described as a combination of tradition and modernity. So on the one hand we have classic finishing materials, such as wooden facades, on the other hand we have modern minimalism, focusing on simple functionality without splendour and rich decorations.
This style spread almost a century ago in Sweden. It was inspired by the work of painter Carl Larsson, whose aquarelle paintings depicted idyllic family life. The pursuit of similar harmony and tranquillity was to be facilitated by house architecture that celebrated simplicity inspired by nature. This effect is achieved by using high-class natural materials that are intended to last for many years. This is in line with the minimalist philosophy to buy fewer things, but of much better quality, so they can last much longer.
In Scandinavian style everything is subordinated to simplicity and functionality. Hence there is not much space for accessories or decorations that enrich the building, but large glazings are present to open up the house to natural daylight. The muted colour scheme is also intended to improve the distribution of sunlight in the interior of the building.
So let's take a look at window suggestions that will suit such a minimalist, but classic style.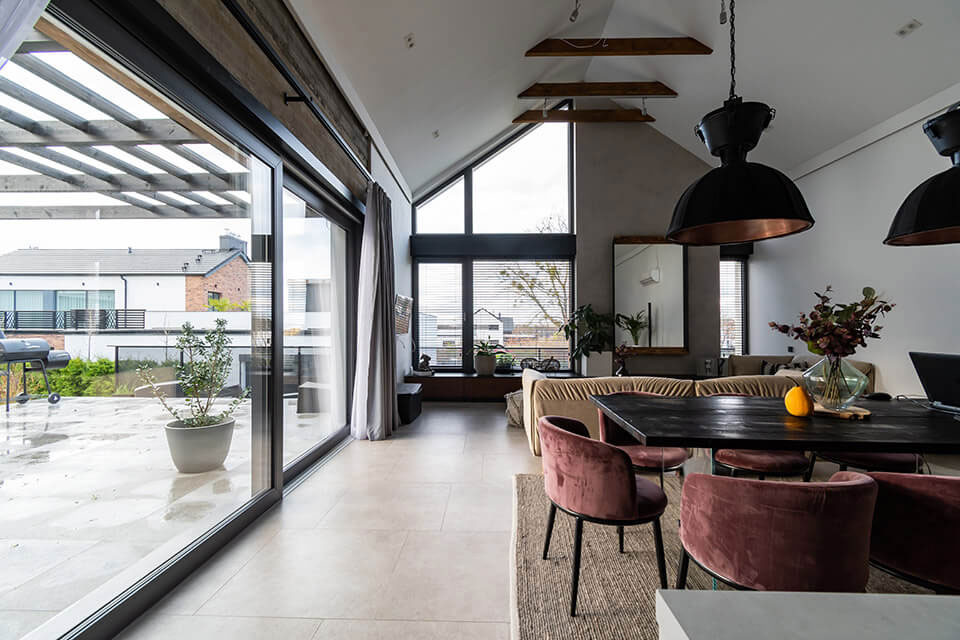 What windows for the Scandinavian style house?
Since large glazing is very desirable in Scandinavian-style houses, it is worth paying attention to aluminum systems . For example, the Premium 86 system from the MS beyond WINDOWS offer, thanks to its strength and statics, allows for the installation of even very large structures that are up to six metres wide.
In addition, aluminium systems allow for solutions that perfectly match the minimalist character of Scandinavian-style houses. For example, windows with a sash hidden behind the frame, which give the impression of blending in with the building facade, will match perfectly with a simple facade.
Aluminium systems are also ideal for use as terrace doors. Patio HST 77, for example, offers unique construction possibilities, such as a fully opening building corner.
It is worth emphasizing that the investment in aluminum windows fits perfectly into the philosophy of the Scandinavian style, which speaks of focusing on the quality of the materials used. Aluminium is the most durable material commonly used in the production of windows for single family houses. It is best able to withstand even very difficult weather conditions. It is also resistant to the destructive influence of time. An investment in aluminium is therefore an investment for years. However, if customers who dream of a Scandinavian-style house won't decide on an aluminium system, they can always reach for PVC solutions. For example, ALU LOOK, which is deceptively similar to aluminium joinery, while retaining the full versatility of PVC construction.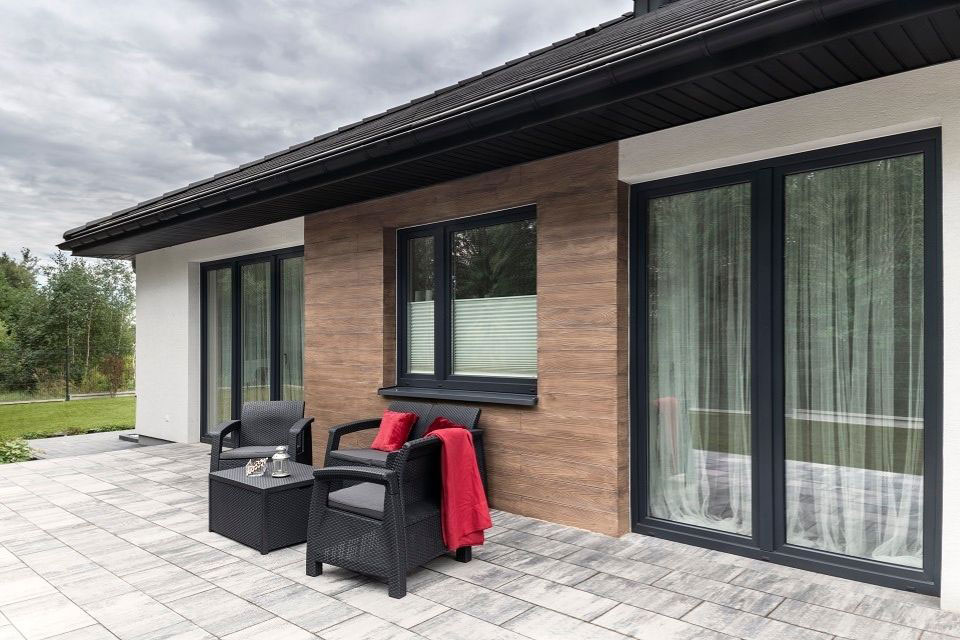 Which colours match Scandinavian style windows?
After deciding on the material of the windows, it is still necessary to choose their colour.
Because Scandinavian style buildings usually have natural wood as the main facade element, combined with light plaster, windows in contrasting dark colours will work well. How they are coloured, however, depends on the material they are made of.
In the case of PVC windows, there are dozens of veneers to choose from. Especially recommended for Scandinavian style are anthracite, graphite or even total black, such as Jet Black matt.
If, on the other hand, aluminium joinery will be installed in the house, then we won't have to deal with veneers. The colour of such windows is achieved by powder coating or sublimation process. In this case it is also possible to opt for the popular anthracite or grey shades.