Table of contents:
Unusual shapes
Manufacturers of modern window joinery have long stopped offering customers only classic, rectangular windows. Realizations with unusual and various shapes or forms are becoming more and more common.
A customer looking for windows in a non-standard shape, for example arched , round , triangular or trapezoidal , can easily direct his steps towards the window joinery showroom. Manufacturers, such as MS more than WINDOW , will approach such an order individually and will certainly meet even the most demanding tasks.
Windows of unusual shapes will be a perfect complement to carefully planned and designed interiors in a variety of styles, such as, for example, marine or classic.
Rounded profiles will emphasize the aesthetics of the room and make the household members able to enjoy relaxation and peace in a visually attractive space. They will fit perfectly into interiors with a more traditional character. On the other hand, angular windows, for example triangular ones, will perfectly complement the decor of a modern barn .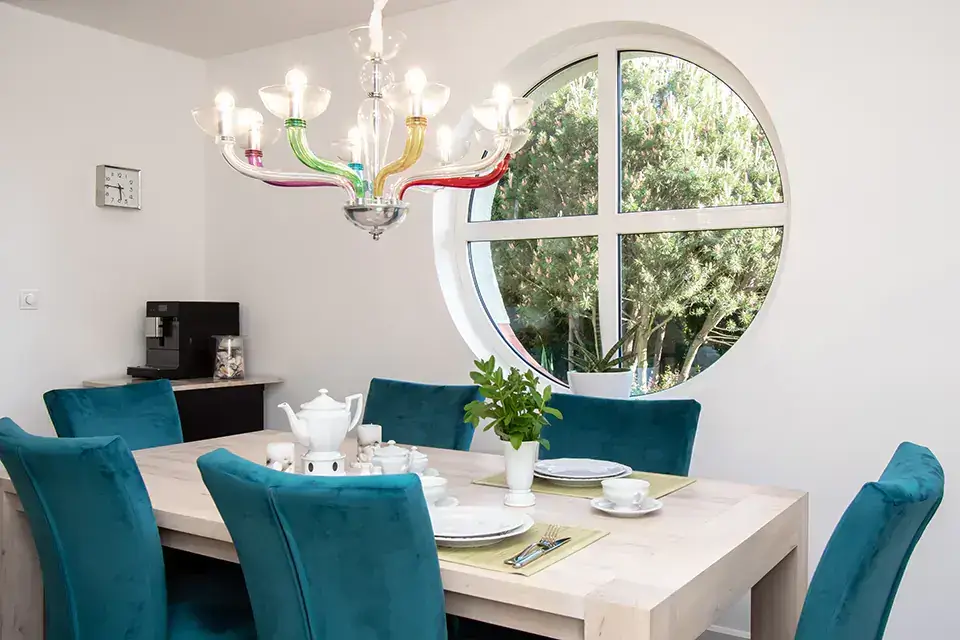 Original colors
Not only the shape, but also the color can distinguish a window in a designer interior. Gone are the days when traditional PVC windows with white profiles dominated the market. The huge range of veneers available and their rich color palette meant that other shades began to gain popularity.
Currently, dark windows, in shades of anthracite or even black, are very popular among customers. Their color and texture mean that PVC windows, for example ALU LOOK from MS more than WINDOW , can successfully imitate aluminum joinery. Colors such as Alux DB , Anthrazitgrau satin or Jet Black matt CC + are real sales hits! They are perfect for houses with an industrial, minimalist design, for example in the Scandinavian style .
An alternative to metallic shades are numerous veneers in wood-like colors. Among them, such colors as Winchester XA , Turner Oak and Orzech are in the lead. Wood-like veneers exude a traditional charm, so they will fit very well in classic interiors, especially in a rustic, country style. In addition, profiles connected with each other using HFL technology, i.e. at right angles, as in Wood Look windows, are deceptively similar to wooden joinery, while retaining all the advantages of PVC windows!
Those looking for bolder colors will also find something for themselves. The MS more than WINDOWS offer includes, for example, veneers in shades of blue ( Stahlblau ), red ( Weinrot ) or green ( Tannengrün ).
Or maybe combine two different colors with each other? This solution is also not a problem! There are two variants of such combinations – two-color or BiColor windows .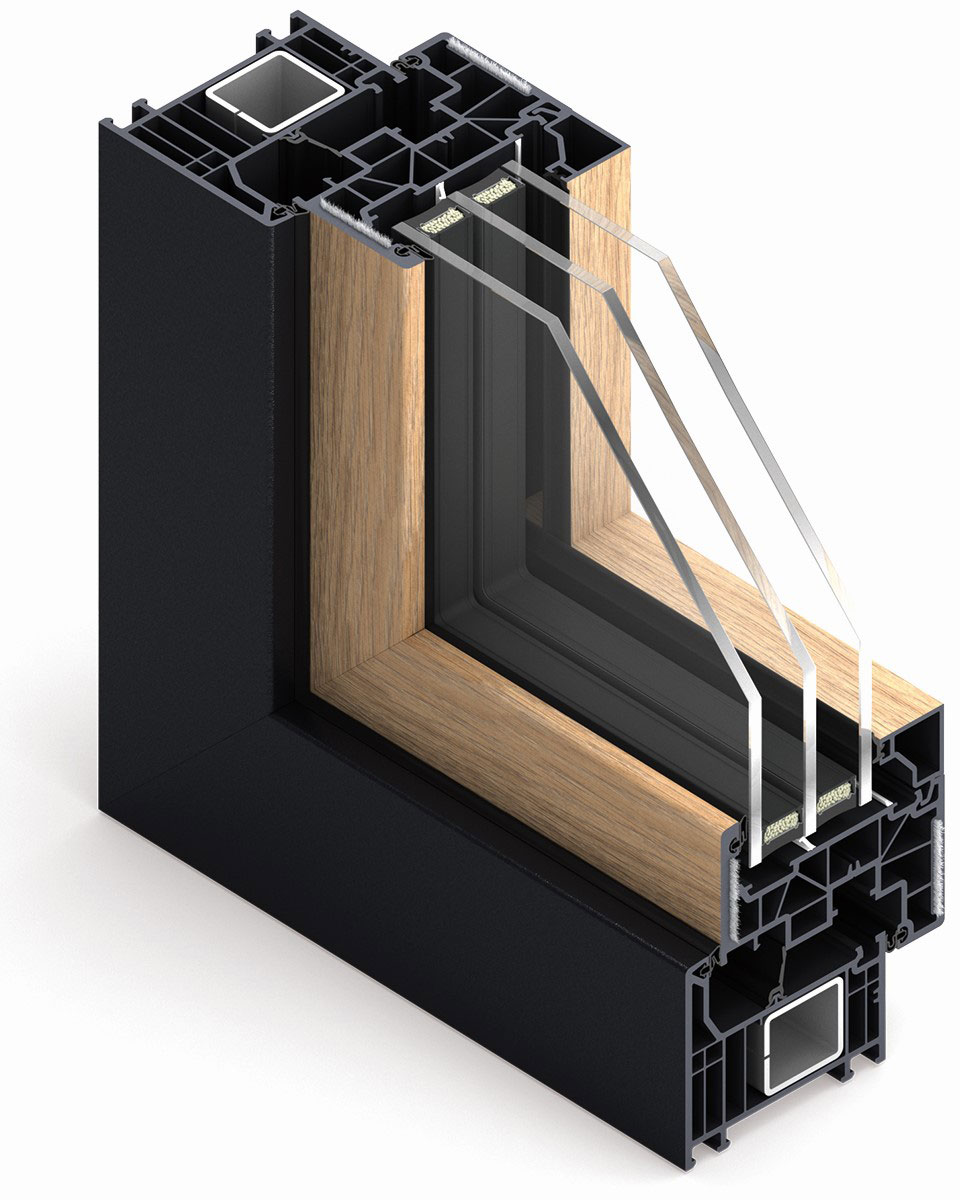 Two-color windows allow you to combine veneers of two different colors – one outside and the other inside the building. Thus, nothing will stand in the way if, for example, white or metallic colors are better suited to the façade, and wood-like to the interior design.
Another option is BiColor , which is a solution that uses two different, most often contrasted veneers for the frame and the sash. Such a classic and popular combination is a frame in a dark shade, for example anthracite, and a sash in a light wood-like veneer. However, that doesn't mean you can't experiment with bolder combinations!
The only limitation for interior architecture is therefore only the designers' imagination!
See also: Full color offer of MS veneers more than WINDOWS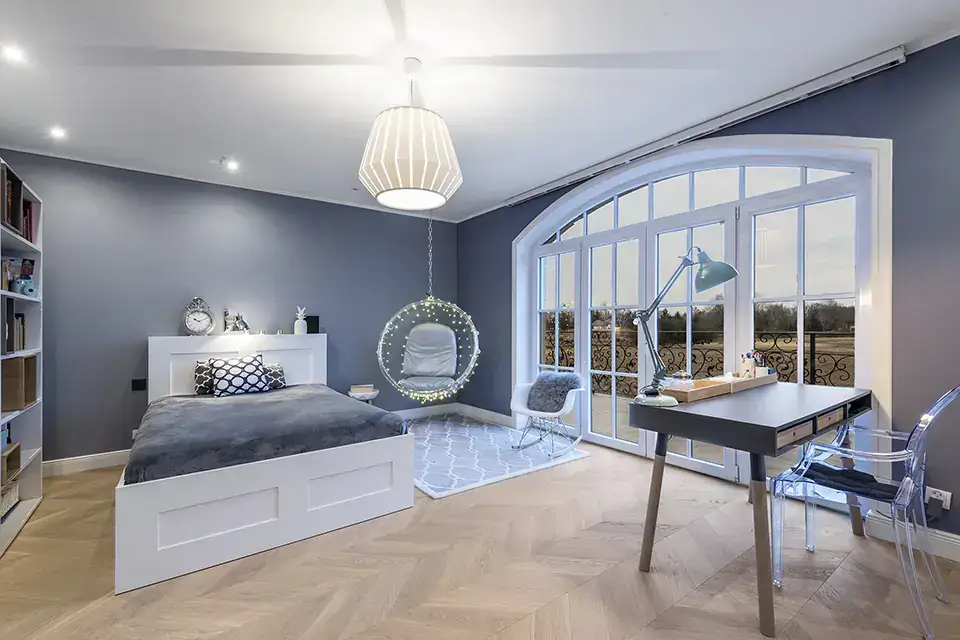 Rich decorations
When both the shape and color of the windows have already been selected and established, you can still choose accessories that enrich them.
Such a classic accessory for windows are PVC muntins , both in the glued-on and inside-glazing version. They will fit best with traditional white windows or versions with wood-like veneers.
Not only muntins are a worth considering addition to designer windows. Optionally, you can also install other decorations, such as, for example, heads , feet , drip caps or wedges . Which of them will suit best is mainly determined by the style of the interior, as well as the character of the building itself. However, nothing prevents you from experimenting a bit!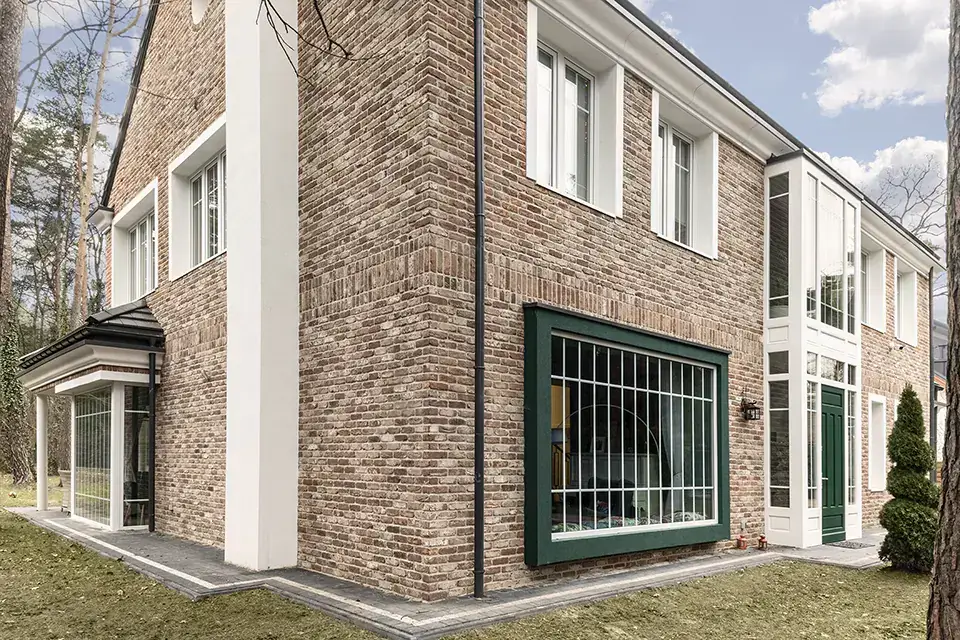 Non-standard glazing
Finally, it is also necessary to mention decorative glazing in the form of ornamental panes . They are not as transparent as classic windows, but they certainly make an amazing impression and provide a unique visual effect!
Ornamental glass is most often used where intimacy is important to us. Their task is to let sunlight into the room while hiding interior details from unwanted eyesight. Therefore, they will perfectly match, for example, designer bathrooms, as well as entrance doors.
As you can see, the offer of producers of modern joinery for customers looking for designer solutions is extremely wide and rich. Windows can be adapted to virtually any architectural style and interior design. We invite you to consult our showrooms and make your dreams come true, even the most extravagant!