Characteristics of French Doors
French Doors is a door in which both leaves open to form one large passage clearance, without a fixed post. Such a solution, in the case of which, after opening the structure, nothing limits the resulting space, it is referred to as a movable post. The product is distinguished by a timeless design that allows it to be used in any room – living room, dining room, kitchen or bedroom. Despite its classic appearance, it will work well in a modern interior and will blend in perfectly with windows and other woodwork elements. In the case of mapping historic structures, battens and muntins can be used, as well as wooden panels in the lower sections of the door.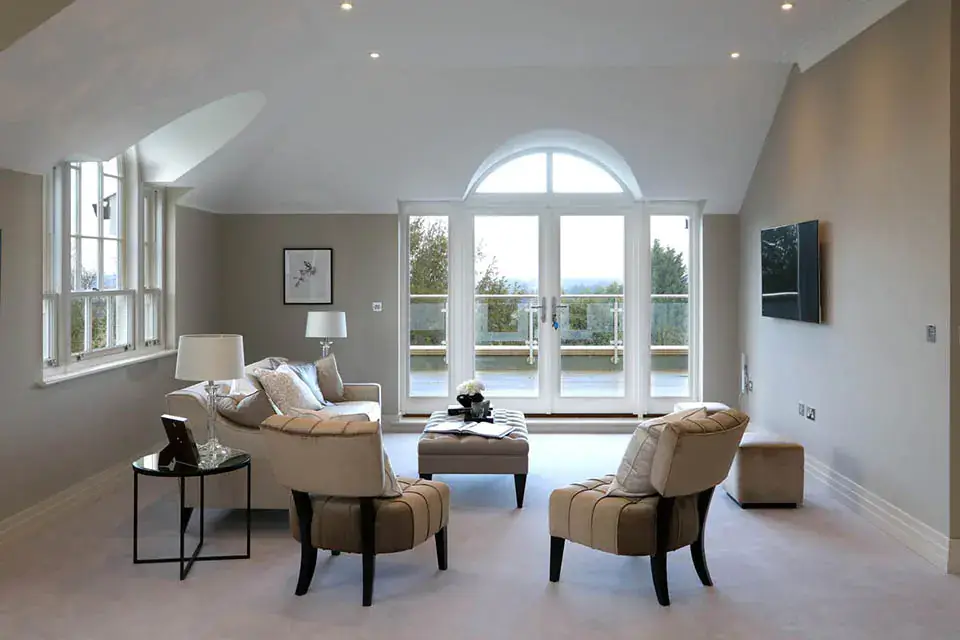 French Doors highlights:
single or double leaf,
possibility of using top or side skylights in various configurations,
opening outwards or inwards,
available in three thicknesses – 68, 80 and 92 mm,
the maximum width of a single-leaf door is 1.2 m, and a double-leaf door is 2.1 m,
possibility of making doors or upper arched skylights,
the possibility of using wooden panels, muntins, lacings,
fittings such as in the front door – provide comfort and safety,
a wide range of threshold solutions,
woodwork finish, types of wood and colors of fittings perfectly match other windows and doors.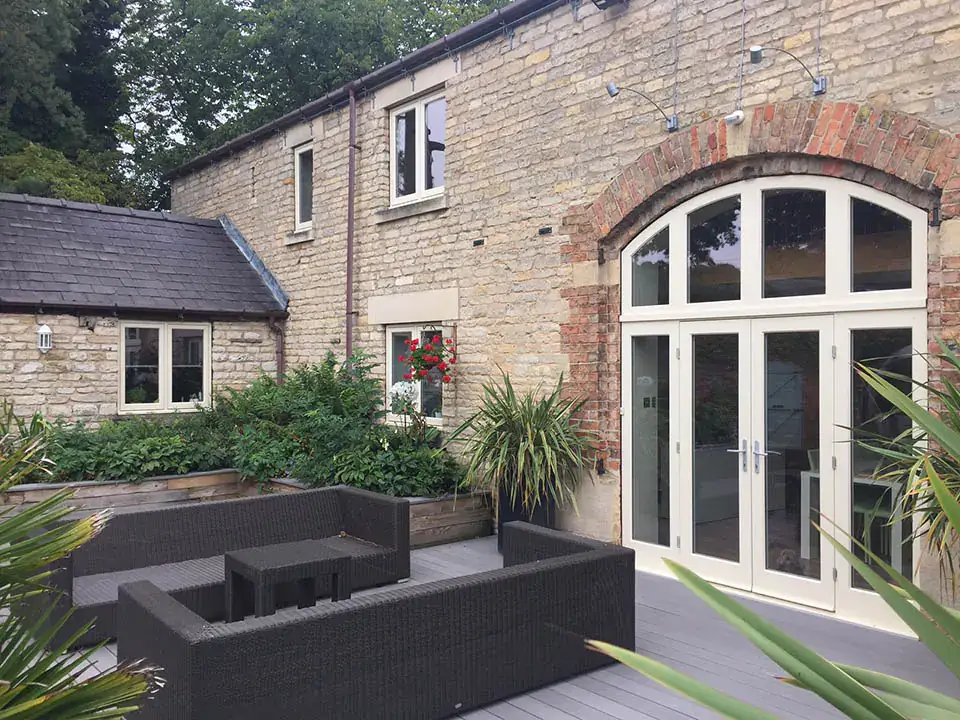 Models of wooden patio doors
The graphic below shows examples of French Doors models. In addition, it is possible to implement individual customer projects in various configurations of skylights with doors.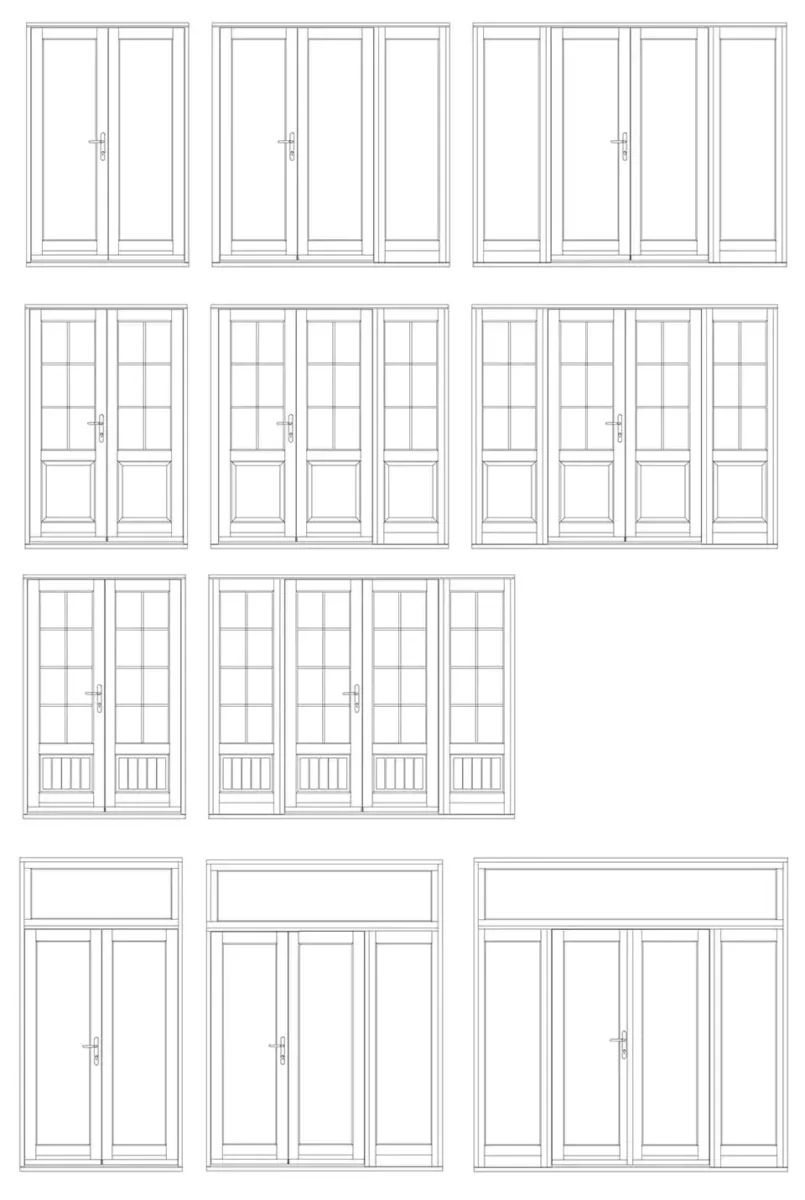 Variants of FD patio doors
Due to the opening function, wooden French Doors patio doors can be divided into outward and inward opening. The graphics below show both solutions in the Modern product line with a door leaf thickness of 92 mm, with Gutmann Weser thresholds (opening inwards) and Aluron ATD thresholds (opening outwards).
FD door opening inwards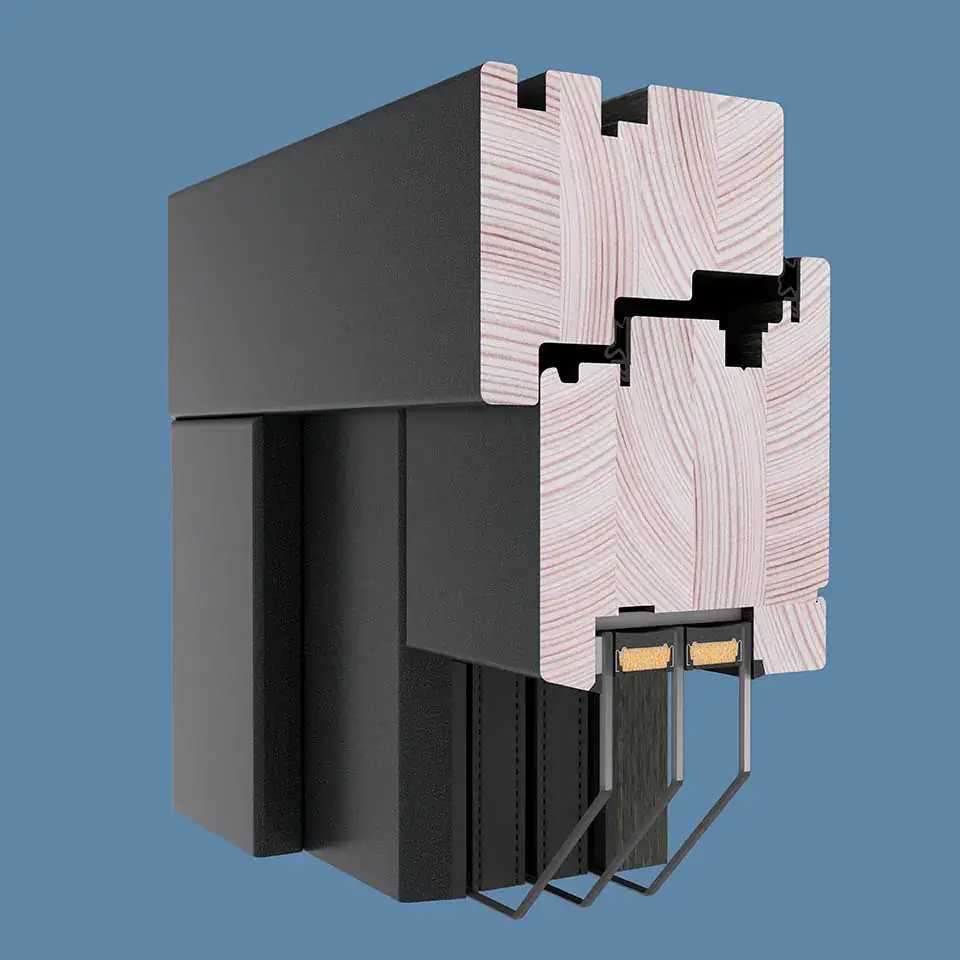 The FD door opens outwards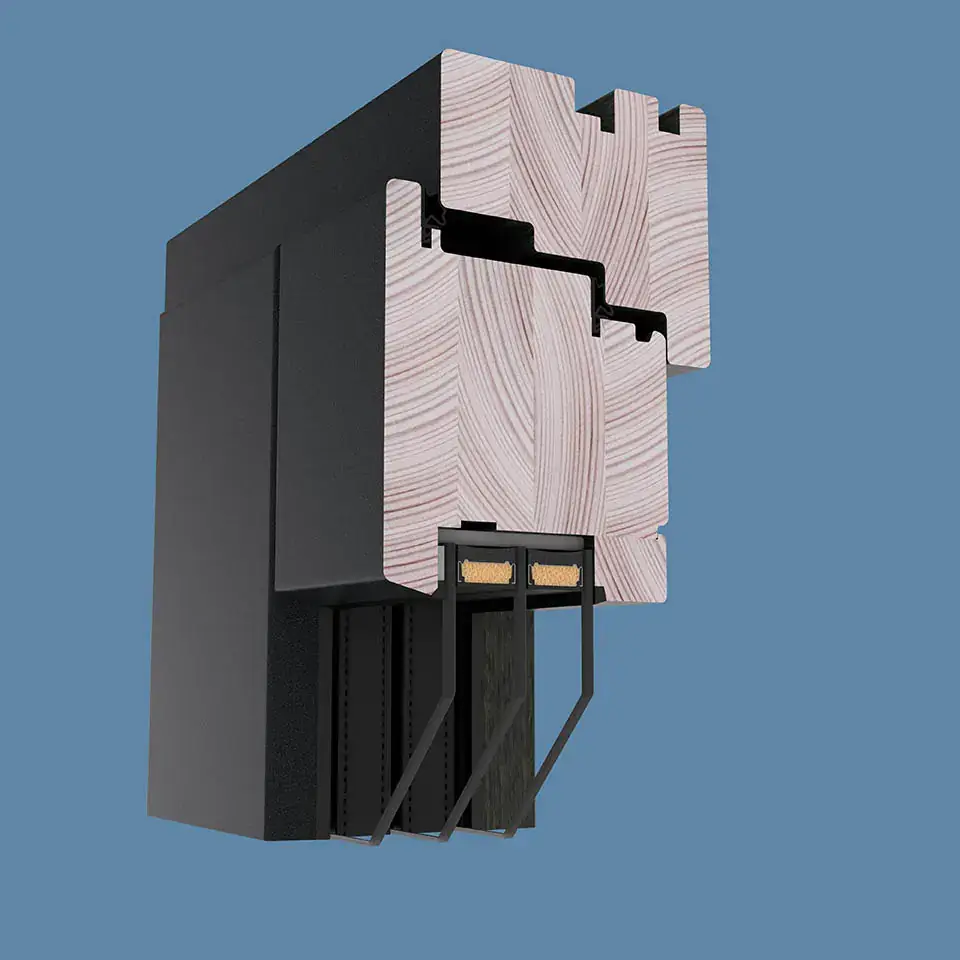 French Doors – product lines
In the case of French Doors doors, you can choose one of the five product lines offered – Soft, Art, Classic, Old and Modern. These options differ in the appearance of the glazing bead and the glazing rebate, as well as the external profiling of the frame and sash. The availability of many solutions provides the possibility of creating a woodwork that perfectly matches the style of the room and the building.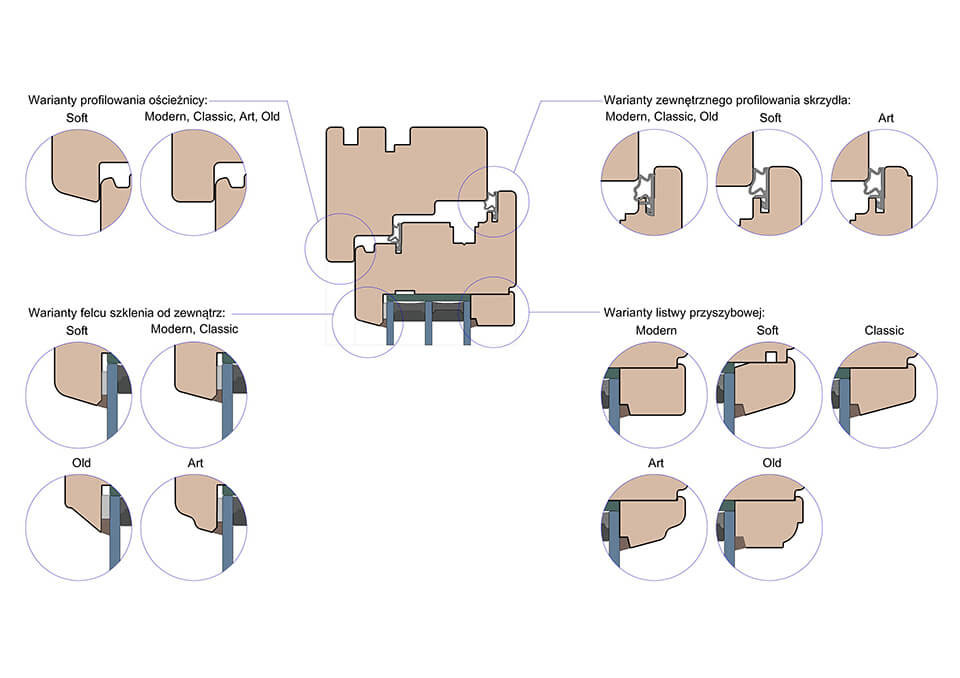 Division of FD doors due to the thickness of the profiles
FD doors are available in three thicknesses: 68, 80 and 92 mm. Each of them is available as part of the above-mentioned product lines. The graphic below shows a cross-section of a structure from the Modern line, 92 mm thick.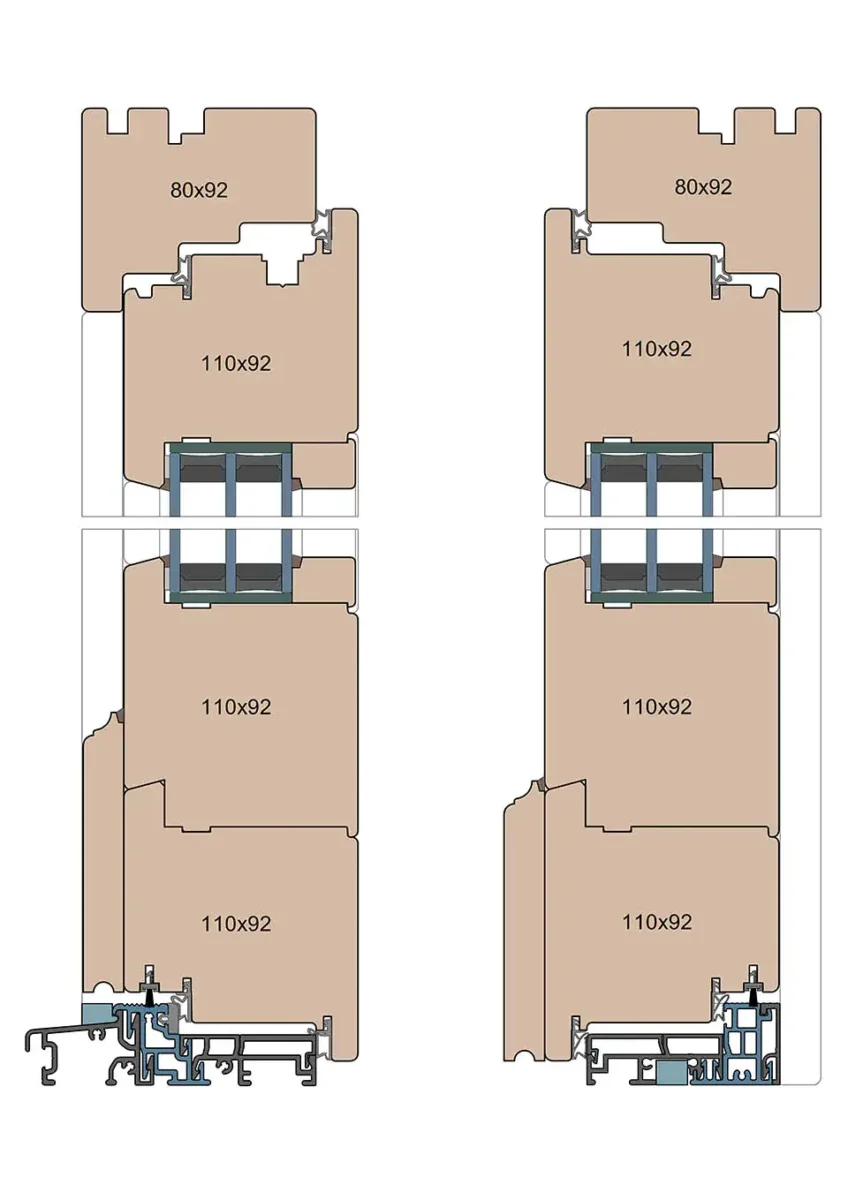 Functions and shapes of FD doors
Standard French Doors are rectangular, double or single leaf structures. Thanks to carefully developed technologies, they can also take other shapes , e.g. arc. It is also possible to create skylights in the form of ellipses, triangles, trapeziums, etc. As a rule, the door is fully glazed, but it may have wooden muntins , lacings or panels for wooden doors . The offer of MS Windows and Doors also includes constructions with side and top lights, which provides greater possibilities in terms of interior design.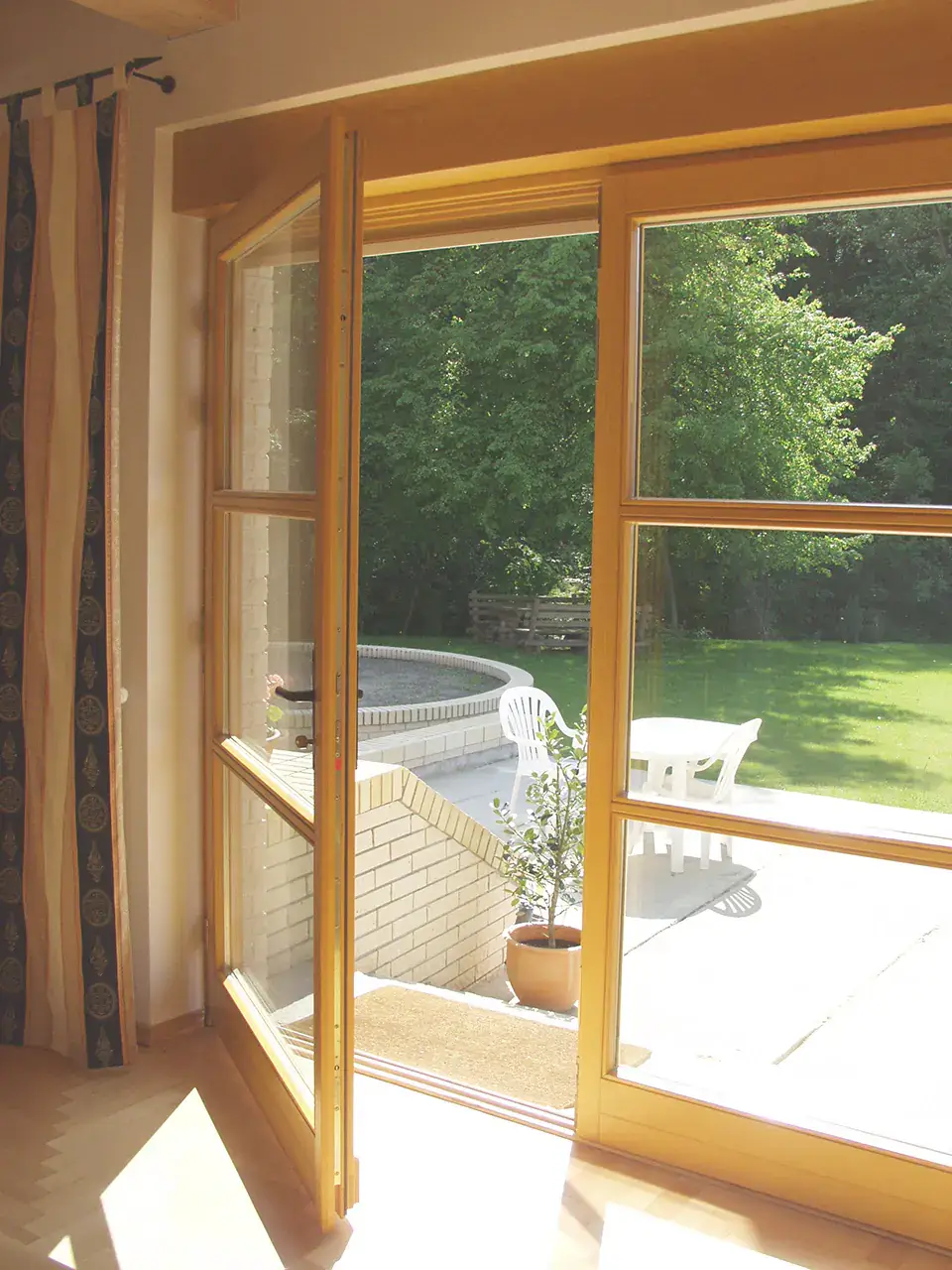 Types of movable mullion in double-leaf FD doors
Double-leaf doors are constructed with a movable mullion, which means that after opening both leaves, nothing restricts the passage. The offer of MS Windows and Doors includes two variants of the movable mullion:
standard solution with one handle on the active sash – the passive sash is locked with the up / down cantrygels, and unlocked with the handle,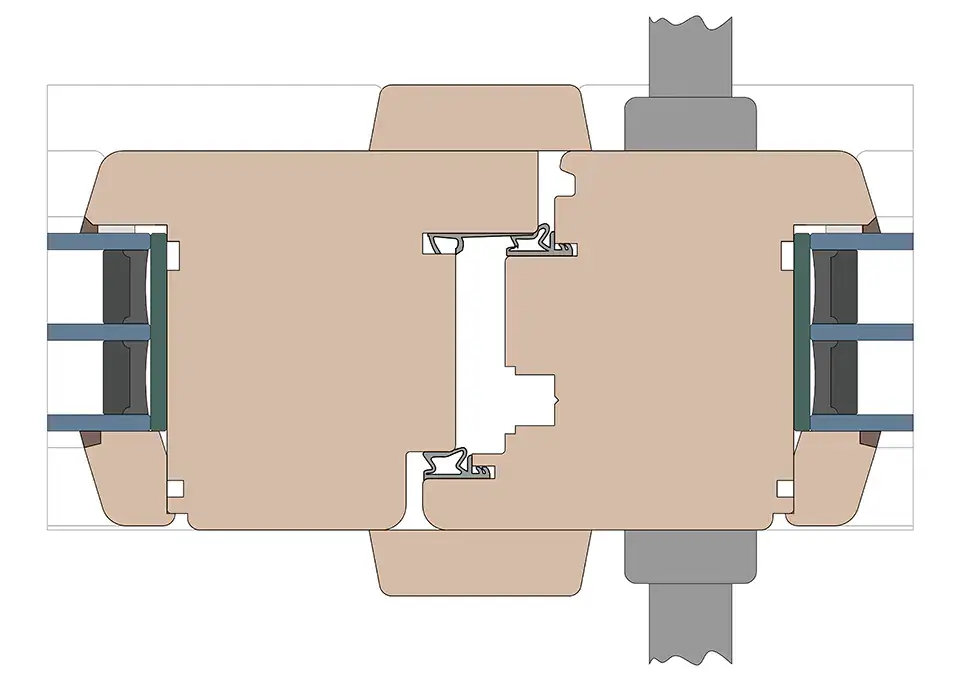 option with two handles (both on the active and passive leaf) . In this case, both leaves open with the handle.
Wood species and surface finishes
A huge selection of available surface finish colors and several types of wood allow for the production of French Doors perfectly suited to the building, as well as other windows.
Standard equipment for FD patio doors
Standard equipment of wooden patio doors has an impact on their functionality and appearance. The use of branded components makes the structures from the MS Windows and Doors offer reliable and can easily be combined with any interior and style of the building. The standard elements of equipment include:
Types of French Doors thresholds
The availability of various variants of the execution of thresholds in patio doors allows you to choose the option that is optimal for the client. The following graphics show examples of threshold solutions (Modern profile, 92 mm):
Wooden patio doors opening inwards – Gutmann Weser aluminum threshold (32 mm), low GG Combi threshold (20 mm) and low aluminum BKV threshold (20 mm).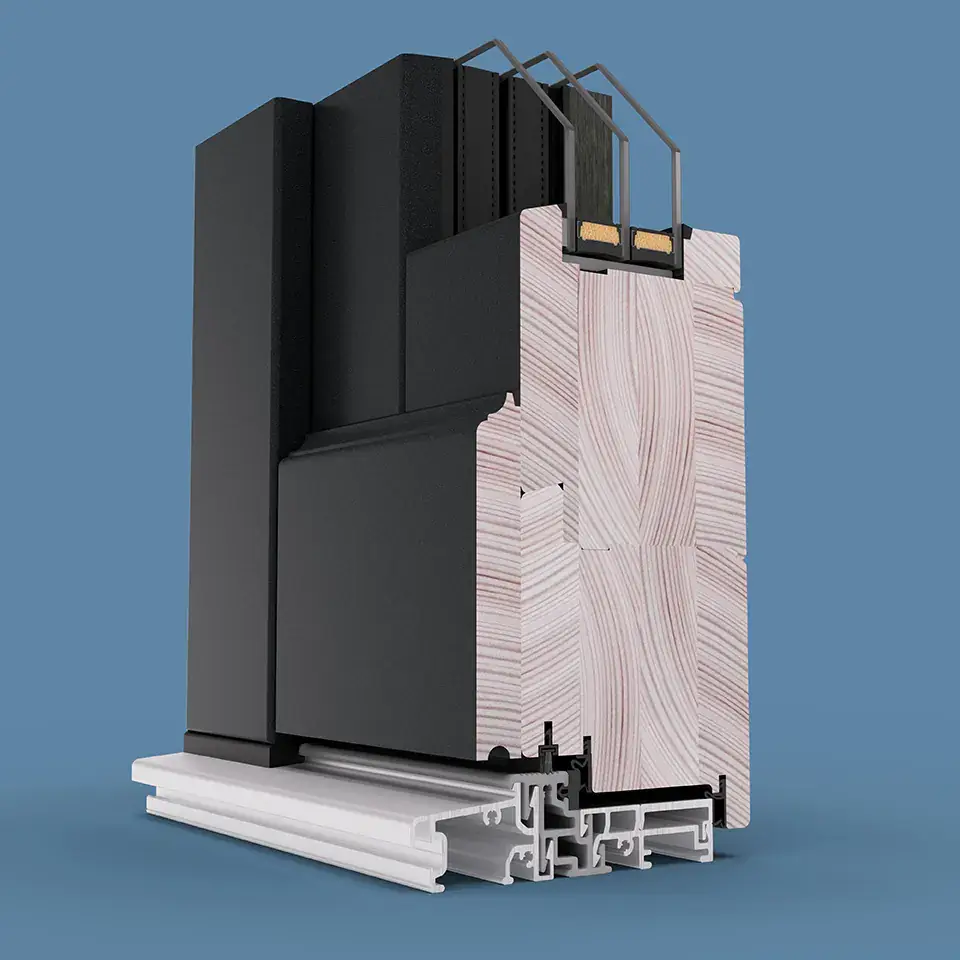 Outward opening door – Aluron ATD aluminum threshold (32 mm) and a low aluminum BKV threshold (20 mm).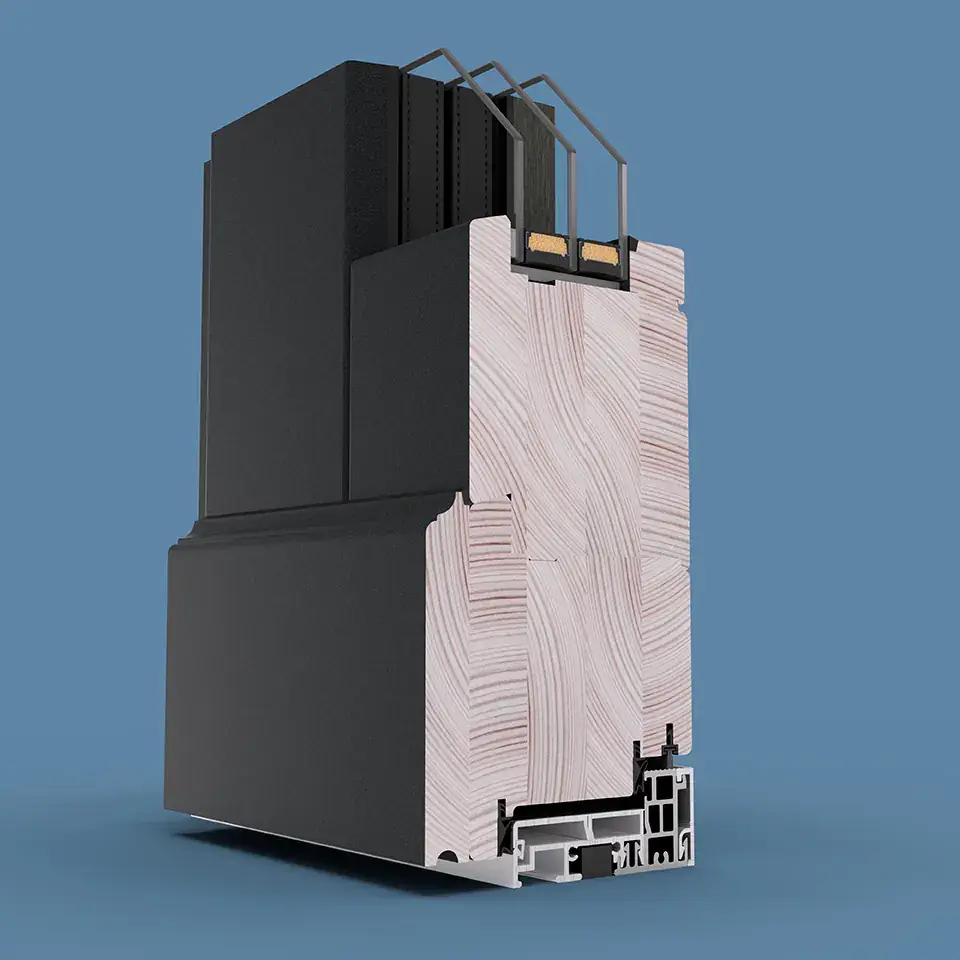 French Doors accessories
In order to increase the functionality of the door, the following accessories can be purchased:
door handles in the colors of window handles or made of stainless steel,
anti-burglary handles and escutcheons,
door handles,
visors,
door closers.